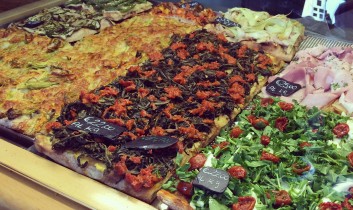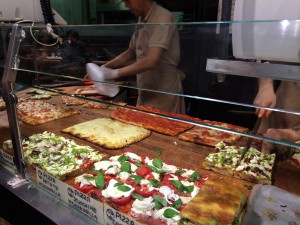 This is the quick pizza addendum. I warned the family before leaving on #kikiworldtour that we would be fully indulging in every ounce of pizza and pasta every waking moment. By the time we leave Italy, they would be begging for sushi and tacos. One week in and they are planning their first meal home.
Pizza in Rome is a sport. Yes, we've all heard the banter between New York vs. Chicago pies but this is a civil sport, amongst the Romans. There are the old-school bread makers who have been there for ages and now, the new trendy places like Pizzarium and Riscioli with fresh funky toppings.
The service: Walking into almost all of the pizzerias, people squeeze in like sardines and most importantly - you have to be prepared with your order. It's quick and people behind you don't want to wait for you to decide nor do the people serving you. They are ready to cut your slice, print your ticket and have you move out of the way. With little kids it can be tricky to maneuver. Then you find a spot along the minuscule counter and jam in with everyone else or head outside to sit on the doorstop or the few spots they provide to stand and eat. It's the bare minimum of counter service.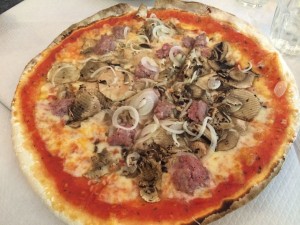 The pizza: There is the simple super thin, crispy crust spread with tomato sauce that they slice, fold over like a crispy sandwich and wrap in paper. I dream about these even for breakfast. Most of the pizzas are made about 2-3 feet long and sliced crosswise, so your slice is a long strip. Roman pizza is all about that crispy crust and just a few simple toppings - thinly slice potato, eggplant, tomato, mozzarella or proscuitto. There's no pepperoni in Rome, as our 10-year old learned the first day when an Italian woman turned and said, "There is no such thing here, that's only in America!" He's learned to order the other toppings.
There's something exciting about walking in to the frenzy of these little places churning out long pizzas with a drawn out line of people fighting for the front. While we've tried the trendy places, we mostly love the simplicity of Roman pizza. Francsco Grasso brought us to a tiny little place on the corner of Campo de Fiori for "biancho" bread and pizza. All the locals were standing outside eating there lunch, always a good sign. I could have eaten their pizza everyday- breakfast, lunch and dinner.
Follow all the pictures from #kikiworldtour on instagram everyday!
About Author