Kiki Luthringshausen, Founder & Author of Beauty and Her Feast
Freelance Food & Lifestyle Writer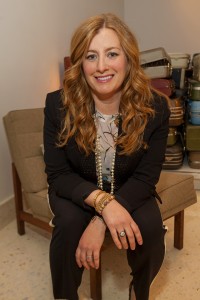 About Kiki
Her expertise in food and lifestyle has been recognized in Chicago for over almost two decades. Kiki Luthringshausen is a reformed interior designer of 15 years who fell into her dream job in 2010 as an Epicurean Entertainer. Prior to her big career change, Kiki was a lifestyle expert and writer for local news outlets. Her work has been featured in the Daily Herald Chicago, The Chicago Tribune, Chicago-based Make It Better, and several trade publications for interior design such as Woman's Day Kitchen and Baths, Woman's Day Windows and Walls, and Accessory Merchandising. Kiki was also a contributor for live segments on the Chicago news affiliates, NBC, ABC, CBS and WGN featuring lifestyle trends and entertaining. In addition, her home was featured on HGTV for an episode of New Spaces as well as an episode of Bring It Home on WGN Chicago.
Kiki is consistently on the scene for events in Chicago. She was a 2011 judge for Burger Bash hosted by media giant Modern Luxury's publication CS, as well as a judge for the 2011 Oyster Shucking event at Frontier with some of the best shuckers in Chicago. In 2011, she emceed the Italian Expo with two noteworthy chefs. She was a featured emcee for Chicago Gourmet 2011 & 2012 and the a Smackdown Judge for Chicago Gourmet 2013 at Millennium Park working with some of the top tastemakers from around the globe. Recently, Kiki has been tapped by several restaurateurs to consult on menu tastings, media and interiors for soon-to-be opened Chicago hot spots. She currently contributes to Modern Luxury's newest publication, NS Magazine and is on the Advisory Board. Kiki writes a weekly Beauty and Her Feast column for the Sun-Times Splash online.


Kiki is the official Ambassador to Mariano's Market educating shoppers through Dish'n with Beauty and Her Feast, a progarm she created that educates shoppers on ingredients and cooking techiniques. She is the lead on bringing chef-driven and artisanal products to the store from around the world and she contributes to the Mariano's Tastemakers campaign.
Kiki and her husband, Prince Charming, have four children ages 19 - 9. They all enjoy eating as much as Kiki and love that she keeps them well fed. Kiki is an Executive Board member and co-chair for the Chef's Committee of In Chef's Hands. www.inchefshands.org
Beauty and Her Feast is meant to be a fun approach to dining and cooking. As an Epicurean Entertainer based in Chicago, I wanted to be able to share my culinary experiences in the voice that has become "my own" around town.
About Beauty and Her Feast
Beauty and Her Feast, a food site. Yes, just about anyone can have one…so why not me? It seemed so obvious but I dug my heels in and resisted because everyone was doing a food blog. But…me, food, writing. I love all three so, what was the hold up? I already knew there are a ton of food blogs and websites. I read them. Some good, some awful, some just blah, blah, blah. But I knew based on my passion for all things culinary, I could contribute to the food industry by reporting on restaurants, chef profiles, exceptional products and kitchen news. Add to that, I wanted to show people the inside of professional kitchens…I had a few ideas to set Beauty and Her Feast apart from the others. Now, two years later and my little seed of a site has solid roots.
When I was younger, I always had a few good guy friends that were the fall back guys. Maybe it wasn't very nice of me but it's the truth. When you're feeling kinda lonely and you need a friend, the fall back guy was always there. As a happily married woman, I have fall back food instead. It's those places I go when I crave comfort or I am not in the mood for a new trend. Am I addicted to the sliders at Allium in the Four Seasons Chicago…YES. Or any dish with gnocchi at Naha…freakin YES. How about Belly Shack's meatballs…ugh, YES. I cannot believe I am going to admit this, but some nights, I go online and just read menus. Sick, I know. Prince Charming (my adoring husband) thinks I'm insane. But everyone is addicted to something. I can sit for hours reading websites, magazines, menus and recipes. I missed my calling but hey, it's never too late. I woke up one day and thought…I need a change. Beauty and Her Feast was born.
Not long ago, someone asked when or how my love of food began. I can't say there was one turning point but truly, my fondest memories are as a child returning home from school (school not being my fondest memory) to smell my mothers cooking in the kitchen of red beans and rice or bolognese. I was blessed with an Italian mother who grew up in New Orleans. Someone in this family was bound to end up a foodie, right? Thus, I learned to cook classic Southern dishes AND Italian food. By college, I was out dining at hot spots in Chicago instead of going to keg parties. By no means have I ever been a cheap date. I then went to Florence, Italy to study art history and Italian in hopes of working in the fashion industry. While there, part of our daily routine was helping in the kitchen of the very tiny school where we were studying. I fell in love with being in the kitchen as I learned to cook the simple Amatriciana pasta dish one afternoon. It just never occurred to me that I could pursue a culinary career…so I didn't. Instead, I grew up around the old fashioned concept of the family meal.
All these years later, I have been cooking for friends and family. I scour every city I have every visited for the best restaurants. I often travel for the sole purpose of trying restaurants or dishes I've read about. I remember my favorite meals I have dined on throughout the world. Now, I share my love of food on Beauty and Her Feast. Bon Appetit!
le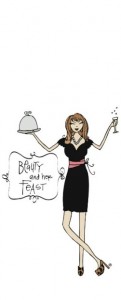 To reach Kiki for media inquiries, consulting information, the blog or Spotlight Chef
please email: [email protected]