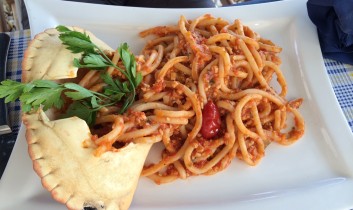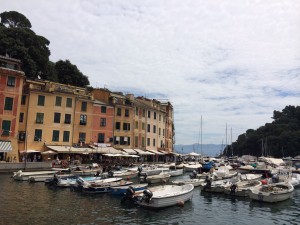 Well, we knew it would happen once- we got separated. We made a conscious choice to meet at our next location, the Italian Riveria…girls vs. boys. With too much baggage (Prince Charming decided to bring a bike!) and no direct route from Venice to Portofino/Cinque Terre, I devised a plan with the boys road-tripping it with all the luggage and Lucie and I taking the train in peace and quiet. Thibault was a toss up but insisted on farting privileges, thus he went with the boys.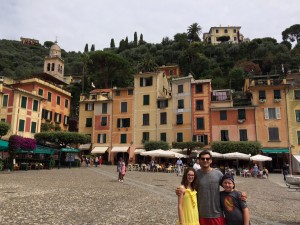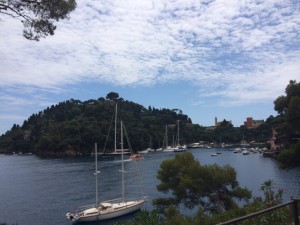 What should have been an easy, breezy 4-hour trip turned into 7 hours for me and Lucie by the time the boys picked us up in Genova then on to the little town where our apartment was located. I was cursing that bike, the huge case it came in and his enthusiasm for riding the last two hours of our excursion. For once, I'm not the one with all the excess baggage.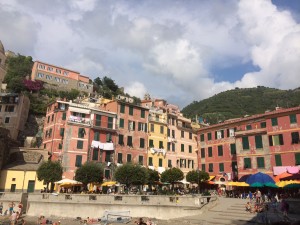 Our apartment was situated in the hills of Chiavari, not too far from Santa Margherita and Portofino. First visit was Portofino for lunch, I insisted. We walked the small town and found a great little spot overlooking the harbor watching the boats as we dined on caprese, Milanese and spaghetti for lunch. Our afternoon stroll will be forever burned in my brain as a perfect afternoon. I made sure to eye the menu at Chuflay, the famous restaurant of Hotel Splendido where all the stars dine, but didn't find Leonardo Di Caprio sipping a bellini, although I did see the prices and kept walking.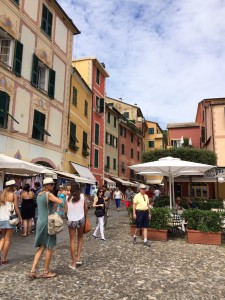 We hung out at the same beach club for two days in Santa Margherita and swam all day in the Ligurian Sea as the kids watched the boats come in and out. At night, we walked the streets until we agreed on a restaurant, mostly in Santa Margherita and again ordered mussels followed by pizza, pasta and the kids' favorite, veal Milanese. Only one night did we go to the local market and grill in. And then…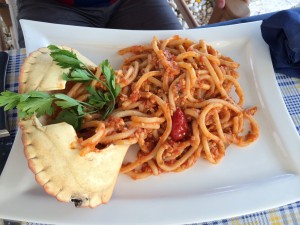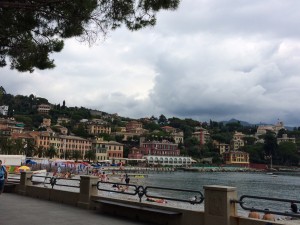 Eye Can't Take It…
"Don't look me in the eye gypsy." –Borat
All through Rome the guys quoted Borat as we passed the notorious zingare lingering everywhere. By Portofino, I came down with a major eye infection that I've now blamed on accidentally looking one of those damn gypsies in the eye. With my eye red and swollen shut for three days straight, I've scared the natives and had to go to the pharmacy twice. It took 3 people and my pocketful of remaining Italian vocabulary to get medication. I left the US shaking off lice and somehow contracted "turtle eye" as my family has dubbed it.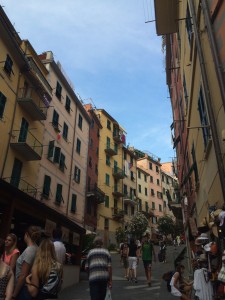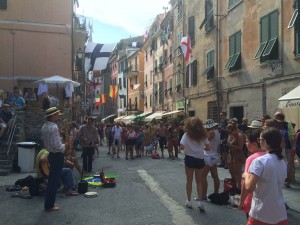 With turtle eye in tow, we caught the train to Cinque Terre. An all day train pass allows riders to hop on and off the train to visit each little town. One full day is really all you need and four out five towns are worth a visit. They're all charming yet swathed with tourists. There didn't seem to be any "off the beaten path" or at least we weren't willing to venture too far. I'd recommend taking the train into the towns then returning by boat to get the full view of Cinque Terre you so often see photographed. We didn't get the stunning views but we heard that the real views are from the water and seeing Cinque Terre is can be more picturescque away from land.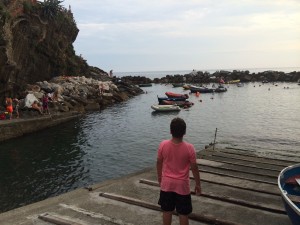 After four full days in the Portifino area, we pack up and head north near Torino. Follow @kikilufeasts on Instagram for all photos everyday on #kikiworldtour
About Author