Kale Caesar Pesto Salad
By Trish — April 02, 2014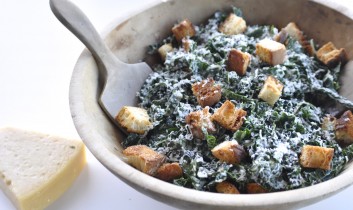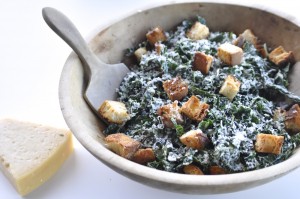 This is the best party salad, no doubt. Everytime I serve it, people as me for the recipe. The dressing also doubles as a great pasta sauce. After draining the pasta, transfer to a large bowl and mix with the dressing.
[photo courtesy of TwoBlueLemons.com]
Kale Caesar Salad
By Trish Published: April 2, 2014
by Kiki Luthringshausen
Ingredients
Instructions
In a food processor, combine the basil, ½ cup olive oil, Dijon, mayo, garlic, ¼ cup Parmigiano, lemon zest and juice, anchovies and Worcestershire.
Blend until smooth adding more oil as needed in a smooth stream. Remove lid and taste. Adjust seasoning with salt and pepper.
Add more Dijon or anchovies if needed and place lid back on and continue to blend. Transfer dressing to a container and keep in refrigerator until ready to use. Will keep in fridge for few weeks.
In a large salad bowl, combine the kale and croutons. Drizzle the dressing over and toss the salad. Sprinkle with extra Parmigiano and grate fresh pepper. Serve. *Try mixing different types of kale.