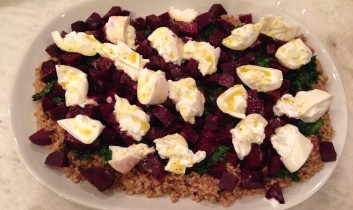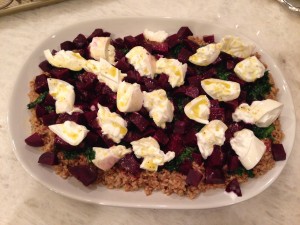 Just another great side dish that's easy to prepare. Mushroom farro simmered in mushroom broth then topped with roasted beets, burrata and toasted hazelnuts all fnished off with fresh lemon juice, olive oil and sea salts.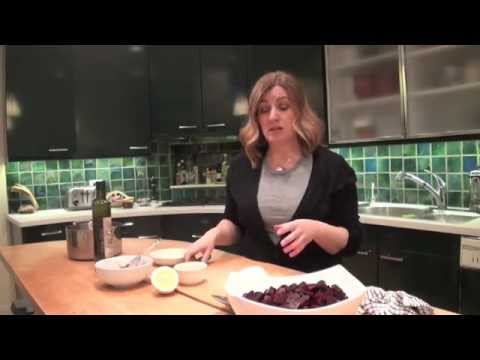 Mushroom Farro, Roasted Beets & Burrata
By kikilu Published: April 1, 2014
by Kiki Luthringshausen
Ingredients
Instructions
Heat the oven to 375°. Wrap the beets in foil, place on a baking sheet and bake for 45 minutes to 1 hour or until just tender.
Remove from the oven and let cool. Peel the beets. Cut the beets in ½" cubes and set aside.
Heat a medium pot on medium-high coated with grapeseed oil. Add the shallots and sauté until soft. Add the mushrooms, season with salt and pepper and sauté until they release their liquid and start to brown, about 10 minutes.
Add the farro and sauté for one minute to toast. Add the mushroom broth, season with salt and pepper. Cook until the liquid is absorbed, stirring occasionally, about 20 minutes.
Transfer the farro to a serving bowl. Scatter the room temperature beets, the sliced burrata and hazelnuts on top of the farro. Squeeze the lemon over the beets. Drizzle with some good quality olive oil and sea salts. Serve.
About Author