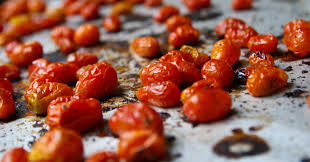 [photo courtesy of Haystacks & Champagne]
I often come up with party tricks and roasted grape tomatoes is one of them. I use them with burrata and crostini, pasta, fish, chicken and just about anything. People ask, "How do you make the tomato sauce?" When I tell them, they reply, "That's it?" Yep. That's it.
Something else completely underated is cod, roasted cod to be exact. I know, it doesn't sound exciting but when I serve it, my family always loves it. And roasting makes it super simple. This dish is equally fantastic served over stewed lentils with the tomatoes spooned on top. Enjoy!
Roasted Cod with Meyer lemon over Roasted Grape Tomatoes
By kikilu Published: January 16, 2014
by Kiki Luthringshausen of Beauty and Her Feast
Ingredients
Instructions
Heat the oven to 375°. Place the grape tomatoes on a rimmed baked sheet lined with parchment paper and drizzle with olive oil, sea salts and freshly ground pepper.
Roast the tomatoes in the oven for 25 minutes or until they are wilted and juices are released.
In the meantime, place the cod on a separate baking sheet lined with parchment paper.
Brush the cod with olive oil and then season it with sea salt and the herbs de provence. It should have a nice coating of the herbs. Grate some fresh ground pepper.
Once the tomatoes are done, remove from the oven and place the tomatoes and all the juices in a bowl. Zest one Meyer lemon over the roasted tomatoes. Stir and then cover them to keep warm and set aside.
Turn the oven to 425°. Once the oven is heated, place the cod in the oven and roast until cooked through, about 8-10 minutes.
*Basil Chiffonade is a simple cutting technique. Stack several fresh basil leaves and then roll them tightly lengthwise. Slice the leaves perpendicular, which produces thin strips.
To plate: Divide the roasted tomatoes between four individual shallow bowls. Place a piece of cod on top of the tomatoes and squeeze fresh Meyer lemon over the cod. Sprinkle the fresh basil over the cod and serve.
About Author