I didn't leave my love of food behind while traipsing around the Mediterranean…but I am a little behind on the Chicago restaurant scene since returning. That changed last night at Bavette's Bar & Boeuf in River North. Billed as a "European-style steakhouse with an emphasis on brown liquor", I would say I did OK for my first night back on the job. I like my liquor dark and smooth and Bavette's had plenty of choices. I had a great Manhattan on the rocks served in a frosty glass with good cherries. Bad cherries…are just BAD and ruin a drink. The place…swanky. The menu…classic although it didn't strike me as European rather a good old fashioned steak joint flecked with some specials like Southern Fried.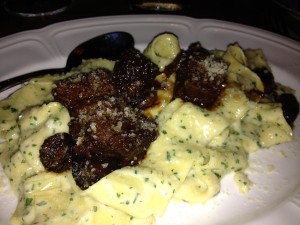 It's safe to say that Brendan Sodikoff (Au Cheval, Maude's Liquor Bar) has done it again. He's created yet another cool place but this time, we were able to get in…unlike Au Cheval or Maude's which are ridiculously packed. My educated food industry guess is the price point. It's high and that twenty-something foodie crowd won't be lining up to order a $54 bone-in filet. Bavette's could potentially cater to a more established diner that also craves cool without the ring of madness that circles Sodikoff's other establishments. I'll admit, it's the atmosphere that got me more than the food. We had a hard time selecting our dishes not because everything sounded so delicious rather it was back to the basics…so what were we in the mood for was really the issue. Adding to that, our waiter was an odd bird. We asked a few questions and each time he replied, "Eh, it's ok." Or, "That dish is the wild card on the menu." We finally realized, he wasn't going to recommend a single dish and we were on our own. His chippy personality amused us. Someone at Bavette's might need to vet the staff better before sending Captain Cantankerous to the table. We were confused why someone would choose to work somewhere when he was so indifferent about the menu.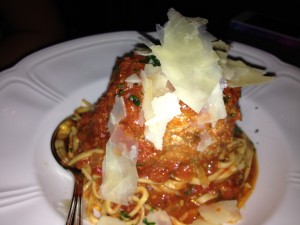 We ordered the Peppered Duck and Goat Cheese Terrine, Roasted Chicken, Short Rib with Pappardelle and the Meatball & Pasta. It was all good but I'll concede someone probably should have tried a steak, duh. The sauce and seasoning for the braised short ribs were very nice but there were only a few pieces on the dish, mostly a plate of pasta with a cream sauce. And while the ginormous meatball (the dish is served with one enormous meatball the size of a navel orange) is a novel idea, it lacked flavor. And the sauce didn't make up for it. Turns out Captain Cantankerous was right about that one, the meatball had an off night on our clock.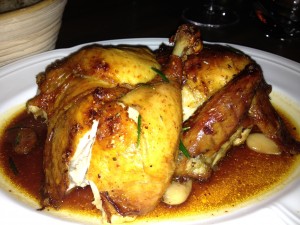 Yes, the food was decent but it's the space that will bring you back. It's the grown up version of Maude's. And I'm sure I will go back because next time, I'm ordering the $54 bone-in filet like the other big kids.
About Author